Working in a commercial kitchen calls for cleanliness on a whole new level, which is why you need the equipment that ensures a hygienic kitchen. Apart from being a legal requirement, a clean kitchen ensures customer satisfaction. In many commercial kitchens, greases and oils get into the wastewater, which leads to grease and food residue in the drainage system. This can cause pipe blockages, corrosion, bad odour and also problems with the operation of the sewage plant. For this reason, many countries, including UAE, regulated grease handling for all locations which produce greasy wastewater, like commercial kitchens. That being said, getting rid of grease is easier said than done. This is where the grease separator comes in, also known as grease interceptor or grease trap.
What is a Grease Interceptor?
A grease interceptor is a system installed to help you get rid of unwanted grease and food particles without clogging your pipes, or causing unbearable working conditions. Kessel EasyClean is set up to work with your current sewer line and disposal system, preventing fats, oils, food bits, and grease from entering the wastewater disposal.
Working with the power of gravity a grease interceptor uses a number of densities to separate grease, oil, and other waste from water. Keeping in mind that vegetable and animal oils and fats have a lower standing when compared to water, it automatically rises to the surface. Ensuring the grease separator separates the two to keep up with healthy water flow. While the rest is set aside to be dealt with in an environmentally safe manner. This can be emptied and cleaned based on your workings, offering a system that works best for your business.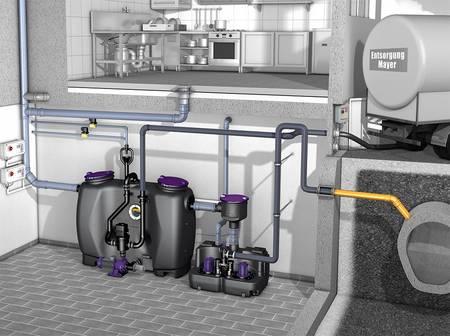 Advantages of a Grease Separator
Save Time & Money
A sure way to save your time and money is by installing a Kessel grease trap that works based on your unique requirements. Knowing excessive oils, food bits, grease, and other potentially clogging elements are taken care of in a proper manner allows you to focus on your business. Allowing you to grow your business the way you imagined, without spending excessive time and money on your sewerage setup.
Environmentally Friendly
A quality grease trap ensures a hassle-free solution that benefits you and everyone around you. By recycling the grease you ensure that liquid waste does not end up in your water, or in the ocean. Moreover, the fog from your sewer system can travel to nearby areas killing aquatic life, animals, and plants. Which is why you need a Kessel EasyClean to ensure your part in building a better future.
Economical Choice
Kessel builds lasting and reliable grease traps that offer exceptional results for years to come. Meaning you will be able to steer clear of any and all expensive repairs. This is made possible by keeping your main sewer line clear of grease, or any other residue that can make home in your system. Costing you more than double the amount each time your drainage blocks.
Law Approved
A grease trap is not just to help you keep up a steady flowing system. In addition, it can help you comply with the law. By installing a grease interceptor, you can ensure the waste your kitchen produces is managed in a proper capacity.
Types of Grease Separators
Free-Standing Grease Separator
An indoor free-standing grease interceptor that can be installed inside your building. Working with a smart solution grease trap allows you to keep your kitchen clean and grease-free at all times. An in-house grease trap makes it easier for you and your staff to keep up with code requirements. Kessel offers you the free-standing indoor drainage systems in sizes ranging from NS2 to NS30.
EasyClean Grease Separators
Kessel EasyClean free-standing grease separator can be split to fit tight spaces. Ensuring you an easy flow and smooth working, even when working in close quarters. Making it an ideal choice for any commercial kitchen that requires a grease trap inside their establishment, without taking up a single space. This EasyClean Modular comes in sizes ranging from NS0,25 to NS4.
Outdoor Underground Grease Separators
A spectacular drainage system for outdoor usage, which can easily be set underground. The grease trap comes in a standard NS10 NS35 sizes to choose from. Offering you exceptional working based on your requirements, while covering the capacity your kitchen needs. A smart choice for large kitchens that work around the clock and need a system that can take on their demanding workings.
The Right Grease Trap For Your Commercial Kitchen
Picking the right grease separator is essential, which is why you need to ask yourself these questions before making the final choice. By following a few simple questions, one can narrow down the perfect grease trap based on your unique requirements.
The Right Size Matters
The first thing you need to consider is the size of the grease trap, which must be based on your kitchen's requirements. This way you will be able to operate your business without any hassle.
Meeting The Code
To start off check the local code requirements, before purchasing and installing a grease trap. This way you can save time and money, while you focus on other important factors of your business.
Know Your Space
Most commercial spaces do not come with a dedicated space for a grease trap, which is why you need to make space before setting it up. Once you have the space, you will be able to narrow down the type of grease separator you need.
Kessel AG has offered commercial kitchens around the world the perfect solution to ensure quality workings. With more than 50 years of experience the Kessel EasyClean drainage systems can take on a heavy load of grease on a daily basis, as it comes with a smart drainage solution that keeps your pipes clean, and your kitchen grease and odour free. For more information, please visit https://www.moosa-daly.com/drainage-systems/40/kessel-ag/. To order your own Kessel EasyClean get in touch by visiting our Contact page.
by Sunil Raj Edwin – Sales Manager, Drainage & Piping Systems